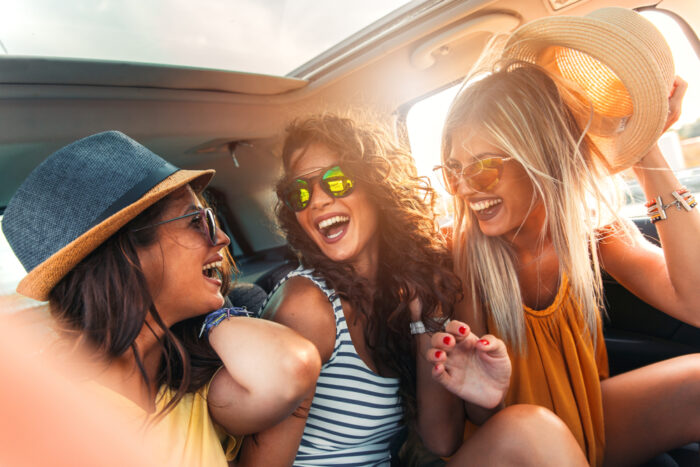 September 25, 2020 4:11 pm
Whether your friend group is the type to wake up early and pack as much fun as possible into your vacation days, or more low-key and prefer to spend the day lounging by the pool, Scottsdale has it all. Grab your girls and head to Scottsdale with a planned itinerary or impromptu spontaneity! Plus, it's sunny all year round here, so no need to check your weather app before you leave.
Here are some must-sees and must-dos for your girls' trip to Scottsdale, AZ!
Must-Do: Brunch, Scottsdale Style!
In Scottsdale, every season is patio season and every weekend is the perfect weekend for brunch! Whether you've worked up an appetite from a morning hike or from a night out on the town, brunch is the right way to ignite your day.
A favorite by both locals and tourists alike, Hash Kitchen is a high-energy spot meant to turn your day into a party before you've even had your first sip of coffee. With a live DJ booth, the largest Bloody Mary bar in the Valley complete with over 40 toppings, flavorful mimosa flights, and White Claw cocktails served in a disco ball, this social brunch experience is a can't miss. Not to mention their enormous menu filled with cannoli donuts, hangover "bruschetta", s'mores pancakes, blackened shrimp and grits hash, and so much more!
For a more relaxed brunch experience, try the Living Room Cafe and Lounge. This spacious patio features comfy furniture and live acoustic music, plus a menu filled with breakfast classics like chicken and waffles, eggs benedict, and sweet or savory crepes. They also serve bottomless mimosas, the ultimate must-have for any brunch!
Looking for something a little different than your usual brunch stop? Check out The Mission in Kierland or Old Town. Their brunch menu features a variety of tacos including mahi-mahi, skirt steak, roasted pork shoulder, and butternut squash. Don't miss out on this Modern Latin restaurant's Mission Bloody Mary's and their "sophisticated yet casual" atmosphere.
Must-Do: Luxury Spa Day!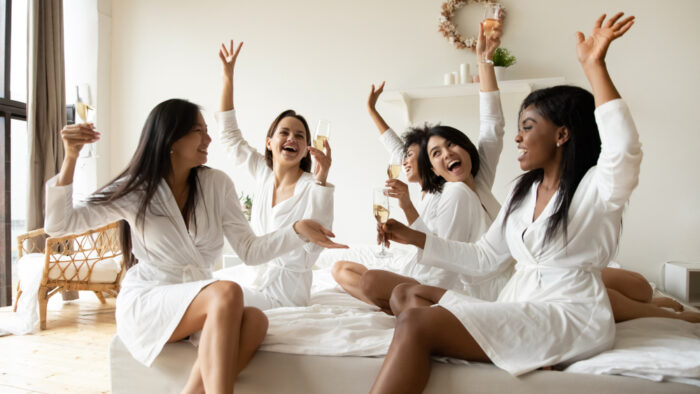 When traveling to a city internationally recognized for its superior luxury spas, you and the girls cannot miss out on the opportunity to relax and rejuvenate within its borders. Whether preparing for a night out or recovering from one, Scottsdale's exquisite spa treatments are sure to level up your self-care game.
Acclaimed as one of the best spas in Arizona, Well & Being Spa at the Fairmont Scottsdale Princess cannot be missed. This innovative spa expertly combines wellness and awakening through its many customizable treatments and fitness classes. Choose from a number of Signature Services, such as a Himalayan Salt Stone restorative massage or Hacienda Retreat body polish and facial massage. Want to treat the girls as a group? Make it a Spa'rty! Customize your day of treatments with celebratory dessert, champagne, and a custom Group Aromatherapy Blending Bar to create your own body butter.
Don't forget to arrive early to your treatment so you can take advantage of the spa's luxurious amenities including a rooftop pool, co-ed waterfall grotto, hot therapeutic whirlpool, healthy spa cuisine, and more!
AWAY Spa Scottsdale at W Scottsdale offers a wide range of services from spa treatments to beauty services for the ideal girls' trip getaway. With a Detox massage and facial, or Glow body treatment, AWAY Spa knows how to work out the kinks in your vacation. They even offer Spa After Dark, a night of pampering that features a DJ, bottomless champagne, and plenty of beauty and spa treatments. This is the perfect way to spend a fun night together or prepare to hit the town afterward! Want a more private spa experience with the girls? Book a Spa Suite with a spa tub and views of the WET Deck right outside.
AWAY's beauty treatments including lash applications, full makeup applications, and hairstyling, even for when you're on the go! Their Quick Fix menu provides full spa and beauty services in the crunch time you need to get back into the city revitalized for the day or night out.
Combining serenity and the Sonoran Desert into one, Palo Verde Spa & Apothecary at Andaz Scottsdale Resort & Bungalows is your tranquil spa destination. Specializing in massage, body treatments, and facials, plus a salon, spa pool, and dining, leisure is of the utmost importance. Lay back for an aromatherapy Soul Essence massage with scents catered to your personality and mood, or escape with a two-hour Desert Ritual body treatment with a jojoba-infused hair and scalp treatment and facial massage.
After your treatments, enjoy the steam room and cabana-style lounging with Camelback Mountain views designed to disconnect you from the world outside!
Must-See: Scottsdale's Natural Beauty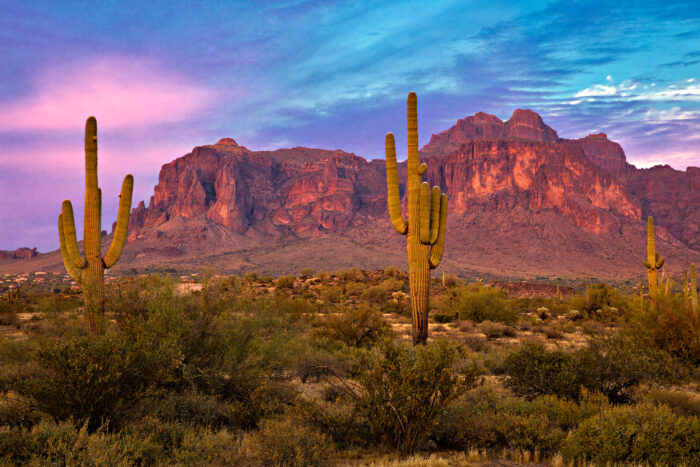 When visiting one of the most uniquely beautiful parts of the country, you'll be remiss if you don't set aside some time to take in the breathtaking beauty of the Sonoran Desert!
Wander around the picturesque Desert Botanical Garden and take photos with its nearly 50,000 spectacular botanical plants. Or take in the distinctly Southwestern vistas while hiking Scottsdale's McDowell Sonoran Preserve. The beautiful photos of desert views will definitely be worth the hike! For the avid hikers who want to break a sweat, Camelback Mountain has two major trailheads, Echo Canyon and Cholla, with epic views at the top!
Want to give your legs a break at the end of a vacation day? Book the girls for an Off-Road Jeep Adventure for a Sunset Sonoran Desert Jeep Tour! Learn about the history, plant life, and culture that defines the Scottsdale region today, all while on the way to a scenic panoramic lookout point! Be prepared for breathtaking colors to fill the sky as you have a private gateway to the Sonoran Desert, plus lots and lots of photo ops!
Must-Do: Kierland Commons, Scottsdale Quarter, & Fifth Avenue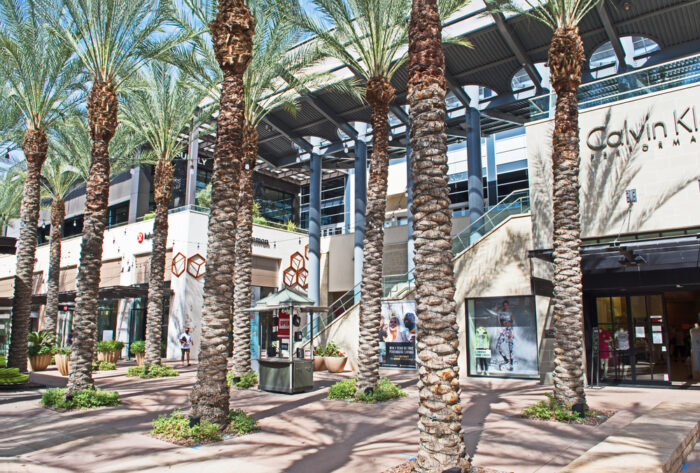 It wouldn't be a girls' trip without some time set aside for shopping.
Take advantage of the popular brands and gourmet restaurants at the urban oasis of Kierland Commons. Located where North Phoenix meets Scottsdale, with 66 stores, 17 restaurants, and 9 resorts and hotels in the area, this outdoor shopping center is the perfect place to spend an evening of bar-hopping and window-shopping. Kierland Commons also offers out-of-town guests complimentary Visitor Savings at participating locations, so let them know you're coming to Scottsdale to save some money!
Close by to Kierland Commons, Scottsdale Quarter features a wide array of options for high-end shopping and delicious dining, making it a necessary stop in "The Beverly Hills of the Desert". With over 80 stores and over 15 restaurants, your girls' trip will be satiated with whatever shopping you want and need! Make sure to stay in the loop of upcoming events in the Quarter when you decide to drop by!
Lastly, wander the nine walkable and unique neighborhoods of Old Town Scottsdale, perusing art galleries and shopping at the boutiques along Fifth Avenue. With a western, native flair showcasing Scottsdale's personality galore, wherever you end up, you'll be sure to find some unique items that you'll be excited to take home with you!
Must-Do: Live It Up at Our Luxury Vacation Rentals!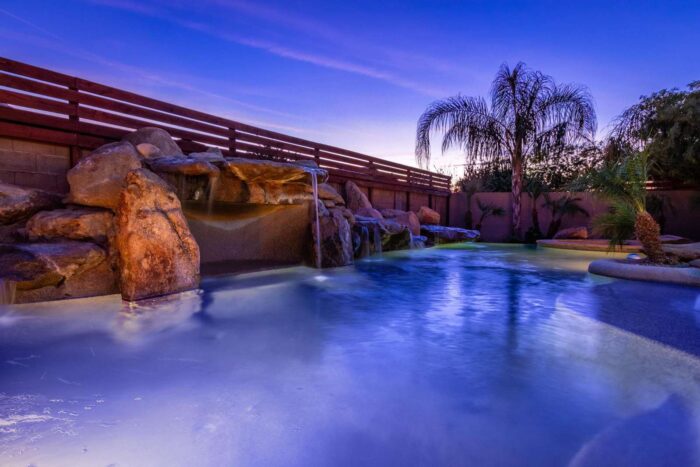 If lounging by the pool by day and soaking in the hot tub sipping margaritas by night sounds like your kind of vacation, Scottsdale Stays is the perfect place for your next girls' trip!

Our luxury vacation rentals sleep up to 30 people and are stocked with outstanding amenities including heated pools, hot tubs, sand volleyball courts, outdoor poolside cabanas complete with 65″ TV's, outdoor fire pits, putting greens, ping pong and pool tables, and much more!

Whether celebrating a birthday, bachelorette party, reunion, or no reason at all, round up the whole friend group and have your next girls' trip at Scottsdale Stays!

Locations, offerings, and amenities may be modified due to COVID-19 procedures. Be in the know and plan ahead of time!

Tags: arizona, bachelorette party, brunch, girls trip, scottsdale, spas


Categorised in: Blog

This post was written by admin