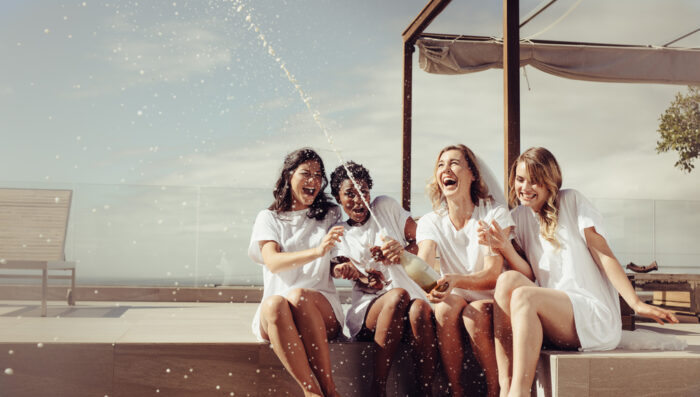 September 14, 2021 10:13 pm
Scottsdale is known for its bachelorette scene by locals and travelers alike, but is it the right bride-to-be retreat for you and your crew? The answer: YES!
The talk of the town is true: Scottsdale has everything you need for an unforgettable bachelorette party, whether it lasts a day or a long weekend. Here, we're going to cover the basics of a bachelorette Airbnb escape in Scottsdale and how we at Scottsdale Stays serve the perfect dose of momentum you need towards the big day.
Scottsdale? Arizona?
This stretch of the Sonoran neighboring Phoenix holds an eccentric combination of nature and luxury, calling people from across the country to bask in its always-sunny glow. Unique dining, excursion, and retail experiences are around every corner and cater to the interests of many, especially your bridal party! From hiking trails and riding bikes through the city to patio dining and wine tasting, Scottsdale has a little bit of everything for everyone. The heat doesn't stop anyone from treating themselves to a good time!
Luxury Vacation Villas? Stay For Less.
The bride squad is required to be the center of attention, and the only way to do that is to find the perfect stay within Scottsdale's city limits. Consider staying at one of the ten luxury vacation villas from Scottsdale Stays, able to house 18 to 32 guests in private resort-style living and Instagram-worthy photo ops — perfect for a joint bachelorette and bachelor party! Amenities at every location include high-speed WiFi, on-call service staff, flat-screen TVs, full-service kitchens, heated pools, hot tubs, and much more for your group to enjoy.
Booking our villas on Airbnb only allows up to 16 guests, but by booking directly with Scottsdale Stays, you can choose up to 32 guests AND save up to 25% in booking fees (we're talking hundreds and thousands of dollars here). It's an advantage you won't get anywhere else in Scottsdale!
No matter which villa of ours you choose to stay at, you'll be in close proximity to Scottsdale's tournament-level golf courses, casinos, spas, shopping, dining, and entertainment.
Bridal Party = Royalty
Wherever the bridal party goes in Scottsdale, prepare to be treated like royalty! You are the V.I.P.s of the city as you head out to a spot like SumoMaya for a Bottomless Brunch, or take an off-road Jeep tour of the Sonoran Desert. Also, we forgot to mention that Scottsdale is the spa capital of the United States, which means your group can be rejuvenated in between activities! Better yet, why not take a full day at Fairmont Princess or Westin Kierland? Recharge at any of the highly-rated spa and wellness locations in Scottsdale and know you're in good hands… if not the best!
Comparable to Vegas, be sure to dress to the nines for bar hopping and nightlife in Old Town Scottsdale, where the dancing and drinks are nonstop. Want to party with the bride squad and make the streets come alive at the same time? Book a Party Bike Private Party with Arizona Party Bike, that will take you through Old Town with drinks in hand and the energy your bachelorette deserves!
Any Season is Bachelorette Season!
Bachelorette season is year-round in Scottsdale, meaning no matter when your bridal party decides to come through, the city awaits. The weather during the fall season is perfect to bring the group — it's not as hot as Arizona summers tend to be, and never rainy enough to ruin your parade. Be prepared for rounds of golf, lounging by the pool, and strolling around town with sunshine and views always.
Just like bachelorette season, remember Scottsdale Stays luxury vacation villas are available year-round and better yet, offer up to 25% in savings by booking directly instead of on Airbnb! We're talking hundreds and thousands of dollars. No extra booking fees mean more for you to splurge while celebrating!
Do The Most & Do It All Over Again
Scottsdale is the place to list your bachelorette itinerary full of things to do, places to be, and memories to make. Pack your suitcases and come experience what is described as an unforgettable desert destination, abundant in good weather, great food and drink, and even better adventures. Scottsdale is your send-off before the aisle, and will have you coming back for more!
Stay in the loop with Scottsdale Stays and our resort-style vacation rentals so you never miss the best booking deals!
Categorised in: Blog
This post was written by admin