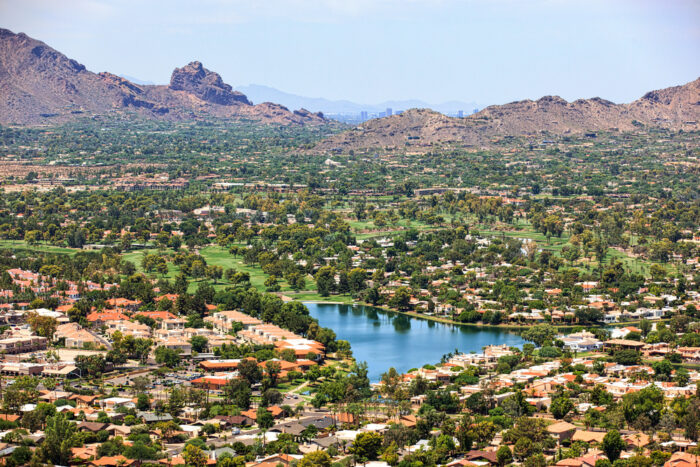 November 16, 2021 10:36 pm
"Where's your other hand?"
"Between two pillows."
"Those aren't pillows!"
The Thanksgiving comedy classic Planes, Trains, and Automobiles said it best: Personal space while traveling is a MUST. This is true for vacations as well; when everybody has their own sleeping situation, the group as a whole is usually happier. As Scottsdale is a town that loves to play golf, golfing groups require the right accommodations to give everyone space to stretch their legs and have a good time. Luckily, we've rounded up the top 10 Airbnbs in Scottsdale for golfers… just for you!
Here are the top 10 Airbnbs in Scottsdale, in no particular order, that are perfect for groups of golf lovers to have their own space… and avoid handsy accidents like the ones in Planes, Trains, and Automobiles!
1. NEW! Paradise Park
This 6 bedroom, 4 bathroom luxury home is the perfect stay for your golfing trip to Scottsdale-Phoenix, situated only minutes away from Desert Ridge, Kierland, and Old Town Scottsdale! Equipped with a tropical backyard laid out with a large pool, bean bag toss, hot tub, and outdoor entertainment area just to name a few, you'll be lounging in relaxation your entire stay. Every bedroom comes with memory foam mattresses for maximum comfort, especially after teeing it up all day!
Book your stay at Paradise Park here!
2. The Magnificent
Our most requested location, in perfect proximity to Kierland, Desert Ridge, and Old Town Scottsdale! The Magnificent sleeps up to 32 guests, designed to be the best vacation rental in the Scottsdale area with its options for fun and relaxation all in one. This villa has it all: full, queen, and king-sized beds, flat-screen TVs in every bedroom, and outdoor amenities such as a heated pool, hot tub, poolside cabana with entertainment, fire conversation pit, putting green, cornhole, and much more for your golfing trip to go by effortlessly.
Book your stay at The Magnificent here.
3. The Ultimate
Your group of golfers will be staying in style at The Ultimate, which is ultimately the best vacation rental you'll find in Scottsdale! The Ultimate sleeps up to 30 people with 8 bedrooms, 6 bathrooms, and an endless amount of luxury amenities for you and your guests to enjoy. Previous guests who have vacationed in Scottsdale have rated nothing but five stars for this true gem in the Sonoran.
Book your one-of-a-kind stay at The Ultimate here.
4. Tatum Retreat
Tatum Retreat is a favorite here at Scottsdale Stays. Sleeping up to 24 people, this renovated home is a vacation escape with everything you could possibly need. One of the main attractions of this luxury villa is not the private oasis of a backyard or the entertainment-style living indoors, but its proximity to all things golf in Scottsdale. Over ten Scottsdale golf courses are within 15 minutes of this property, including Troon North, Talking Stick, TPC Scottsdale, and Silverado Golf Club.
Book your golfing getaway at Tatum Retreat here!
5. Janice Villa
Scottsdale Stays' Janice Villa is great for the smaller golfing group in mind! Sleeping up to 20 people with five bedrooms and four bathrooms, this stay has all the necessary accommodations for an unforgettable golf trip. Heated pool, hot tub, putting green, and more, plus less than ten minutes from eateries, bars, shopping, and golfing Scottsdale and Kierland have to offer, Janice Villa is the right choice that won't treat your vacation wrong.
Book Janice Villa for your golfing trip to Scottsdale here.
6. Paradise Estate
Known for its open and spacious floorplan and backyard, Paradise Estate is a luxurious choice for your golfing getaway in Scottsdale. With six bedrooms, three bathrooms, and an awesome blend of amenities to cater to any and all vacation occasions, this villa is truly paradise in its own right. Practice your putting in the resort-style backyard, or simply drive to one of several Scottsdale golf courses within ten minutes of your stay.
7. Casa Royale
Tee it up like professionals at Casa Royale, because the accommodations themselves are luxury level. This villa comfortably sleeps 24 guests with additional living area sleeping if needed, and has a backyard that's to die for — an award-winning rock waterfall pool, fire pit, outdoor entertainment area, putting green, volleyball… you name it, Casa Royale probably has it. With your days out on the fairway and your nights in at Casa Royale, consider your vacation to Scottsdale one for the books.
Book your stay at Casa Royale here!
8. Altadena Estate
If you're looking for big vacation living for your small vacation group, Altadena Estate from Scottsdale Stays is the luxury villa for you! With five bedrooms, three bathrooms, a 50-foot covered patio area that overlooks the large pool, lounge area, putting green, and bean bag toss, there's a little something for everyone here on top of all the golfing you'll do in Scottsdale. Rated five stars all around, Altadena Estate is an absolute must-stay.
9. Verde Estate
A golfing getaway in Scottsdale isn't complete without some mini golfing somewhere in your accommodation and at Verde Estate, you get the mini-golf, fire conversation pit, pool, and hot tub all in the same property. Sleeping 22 guests, this five-bed, three-bath luxury villa is suitable for your vacation group no matter the occasion and wherever the festivities lead. Not to mention if you're looking for nearby golf courses, you're in the greatest luck!
Book Verde Estate for your vacation here.
10. Casa Greenway
Last and most definitely not least, is Casa Greenway. This luxury resort-style villa is perfect if you want to leave the golfing for Scottsdale's full-sized courses and still want the V.I.P. treatment for your own stay. This private residence sleeps up to 24 guests with a pool, hot tub, and sand volleyball area to take advantage of Scottsdale's holiday climate, plus 6 bedrooms and 3 bathrooms for everyone to sleep in comfort.
Book Casa Greenway for your Scottsdale getaway here.
All listed luxury villas have full-time service staff available at any time during your stay.
Stay in the loop with Scottsdale Stays and our resort-style vacation rentals so you never miss the best booking deals!
Categorised in: Blog
This post was written by admin