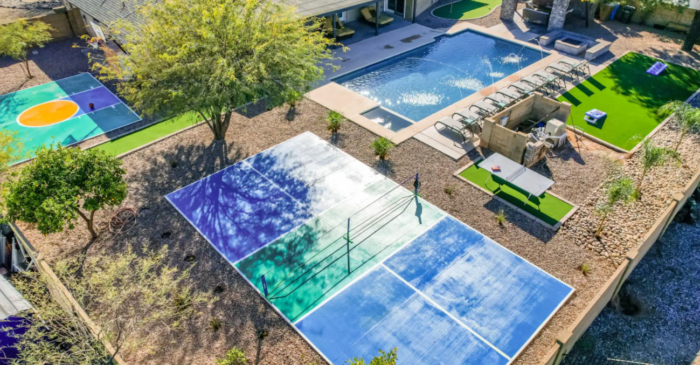 May 18, 2022 4:50 pm
It's no surprise that summer in Scottsdale is something to look forward to. With an endless amount of sunshine, pool and spa time, and sunrise/sun-up hikes and golfing before the triple-digit heat kicks in, your accommodations should be just as lively and inclusive. Lucky for you, we have the best Airbnbs for your enjoyment here at Scottsdale Stays and have compiled the top 5 stays to claim for your summer vacation here.
Keep reading for our top 5 Scottsdale Airbnbs to book this summer, where guests can enjoy the lowest rates of the year!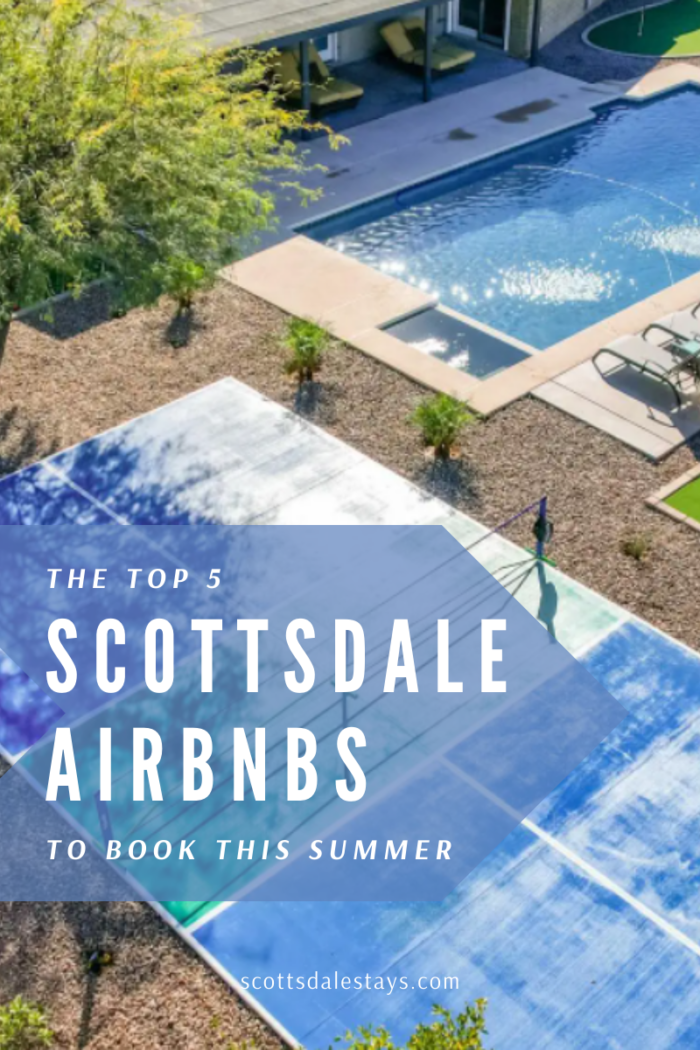 #5: The Amazing
With a private 36,000 sq ft. yard with a large heated pool, basketball court, putting green, soccer field, fire pit, and more, The Amazing lives up to its name! Accommodating up to 18 guests with 6 bedrooms outfitted with memory-foam mattresses and flatscreen TVs, you'll be vacationing in comfort!
This stay is one of the best luxury stays in Scottsdale and is conveniently located near restaurants and eateries, Old Town Scottsdale, Sky Harbor Airport, and Kierland.
#4: The Magnificent
This luxury Scottsdale villa is perfect for your summer vacation, bachelorette, or just because trip to the Sonoran! Comfortably sleeping 32 guests with 7 bedrooms and 6 bathrooms with an additional guest house, you're in for a treat at The Magnificent.
Enjoy the large pool, hot tub, outdoor fire pit, or poolside cabana to pass the time, plus the most accessible location to Kierland and the Quarter, Desert Ridge, and Old Town Scottsdale!
See more of The Magnificent here.
#3: The Ultimate
The Ultimate is one of the best vacation villas in the Scottsdale/Phoenix region, with all the accommodations and amenities you need to stay cool during the hot summer days and cozy for the warm summer nights.
Sleeping 30 guests, this luxury stay comes with more than enough space for comfort including an outdoor fire pit, poolside cabana, hot tub, large pool, and entertainment centers throughout the property! This villa gives you easy access to Downtown Scottsdale, Kierland, and Old Town Scottsdale.
See more for The Ultimate here.
#2: Camino Santo Estate
Newly renovated and upgraded, the Camino Santo Estate comes with everything you need and more for an epic Scottsdale stay. Camino Santo comes with a private 38,000 sq ft. yard with a large diving pool with loungers, covered patio, basketball court, putting green, bocce ball, and more – all for you and your guests to enjoy! The inside of this property is just as impressive, equipped with modern interiors, a laundry unit, kitchen amenities, and more.
Your stay here puts you a short distance from all Old Town, Kierland, McDowell Mountain, and Scottsdale's food scene have to offer.
See more of the Camino Santo Estate here.
#1: The Shangri-La Estate
Last and definitely not least, The Shangri-La Estate is a one-of-a-kind private villa in the Scottsdale/Phoenix area and continues to set the bar! With 8 bedrooms sleeping 26 guests, 10 flatscreen TVs, and a number of amazing outdoor amenities, you'll be staying in luxury that rivals a resort!
This estate is less than 10 minutes from the action of Old Town Scottsdale, Kierland, The Quarter, and Desert Ridge, giving you and your guests options for how to beat the summer heat – out on the town or in the shade of your backyard!
See more of our awesome Shangri-La Estate here.
Stay in the loop with Scottsdale Stays and our resort-style vacation rentals so you never miss the best booking deals for your desert getaway!
Categorised in: Blog
This post was written by admin