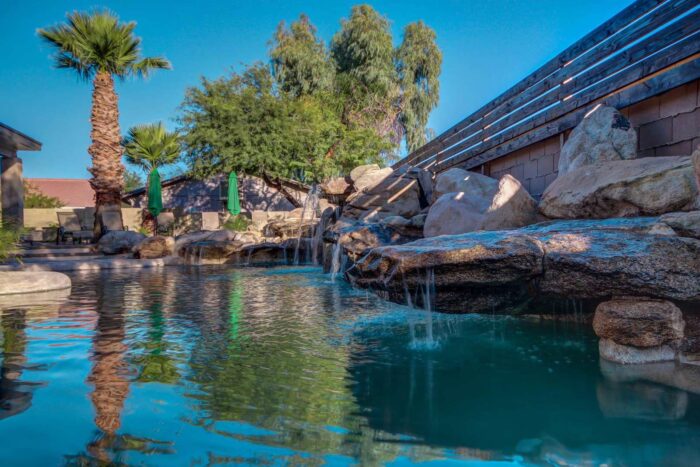 October 15, 2021 2:26 pm
We all know by now that Scottsdale is the place to be for a vacation any time, any season. Choosing your accommodations can be intimidating and a lengthy process, so we've rounded up the best Airbnbs to stay at in Scottsdale so you don't have to!
All of these homes are affordable and include high-speed WiFi and complimentary service staff, located conveniently near Scottsdale's Champion golf courses, eateries and nightlife, and entertainment in downtown Scottsdale and Kierland. From heated pools to fully-furnished kitchens, volleyball courts to putting greens, Scottsdale has you in for a treat.
Here are the top 10 Airbnbs to stay at in Scottsdale!
(Disclaimer: They're all impressive.)
10. The Cholla
Currently undergoing renovations, The Cholla is a private home perfect for any group event in Scottsdale. This 4 bedroom, 2 bathroom luxury home has memory foam mattresses and flatscreen TVs in every room plus the essential kitchen necessities and homey interior for comfort. Outside a large heated pool, pool loungers, outdoor dining, and fire pit area show how large the property truly is. This property gives you a desert escape right in Central Scottsdale/Kierland, accessible to all the area has to offer in dining, entertainment, and sports!
See more of The Cholla here.
9. Janice Villa
One of the most sought-after rental villas in the region, Janice Villa is your private desert oasis that pictures don't do justice for. With 5 bedrooms and 4 full bathrooms, this renovated and professionally decorated home can accommodate up to 20 guests in spacious comfort indoors and outdoors!
The heated swimming pool, jacuzzi, and hot tub with a lounging area are perfect for sunny days and late nights, especially with the bocce ball, fire pit, and putting green for gaming entertainment with the group!
See all of Janice Villa in Kierland here!
8. Paradise Estate
The perfect sized putting green awaits for you at Paradise Estate, where 26 guests can rest easy in the 6 bedroom, 3 bathroom resort-style villa. Located conveniently near Scottsdale's events and best attractions, this property is ideal for any and all group vacations and events with the amenities to prove it. Private pool. Hot tub. Fire pit. Putting green. Gas grill. Smart TVs. Free WiFi. The list is impressive and necessary for your Scottsdale getaway, and you will truly be in paradise!
Check out Scottsdale's Paradise Estate here.
7. Tatum Retreat
Tatum Retreat is a 6-bedroom, 3-bathroom villa located in Central Scottsdale and sleeps 24 guests. Furnished with a full kitchen, laundry machines, flat-screen TVs, and high-speed internet, you have all you need for vacation. An illuminated, private resort-style yard awaits with a swimming pool, above-ground hot tub, putting green, pool table, fire pit…the list goes on. Champion golf courses, Old Town Scottsdale, Sky Harbor Airport (PHX), and much more are within a short distance of the property.
See more of Tatum Retreat here.
6. Verde Estate
Escape to the tropics in Scottsdale at Verde Estate, right across the street from Tatum Retreat! This property sleeps 22 guests with 5 bedrooms, 3 bathrooms, and all the necessary amenities for your stay. This home was designed with guests and getaway in mind, obvious by the large pool, hot tub, lounging area, bocce ball court, fire pit, and more. Enjoy the fully equipped kitchen, entertainment systems throughout, and the ease of access to Old Town Scottsdale and the surrounding area.
See more of Verde Estate here.
5. Altadena Estate
If you're aiming to entertain, Altadena Estate is where the party starts. This 5 bedroom, 3 bathroom vacation property is decked out with a covered patio, fire pit, heated pool, billiards, and much more to keep the days and nights lively for up to 16 guests. All bedrooms have memory foam mattresses and flatscreen TVs!
The location of Altadena Estate is ideal to be close to everything Scottsdale, including retail shops, restaurants, golf courses, Old Town, and Kierland.
Check out more of Altadena Estate here!
4. Casa Greenway
Casa Greenway, a desert treasure of a villa, is your private Scottsdale retreat. With 6 bedrooms, 3 bathrooms that can sleep up to 24 guests, consider your golf retreat or bachelorette covered. Enjoy the large diving pool, sand volleyball, and hot tub outside, or take it easy inside with new furniture, full kitchen and wine bar, with a 65-inch TV for your entertainment. Kierland Commons and Scottsdale Quarter are only half a mile away from this luxury home, and a short driving distance from all Scottsdale has to offer. With over 10 golf courses under 15 minutes away and easy access to Phoenix sporting events and hiking trails, Casa Greenway is truly your place to stay.
See all of Casa Greenway here.
3. Casa Royale
Casa Royale is a 6-bedroom, 3-bathroom luxury villa and can sleep up to 24 guests. Inside, enjoy high-speed internet access, full-service kitchen, 6 flat-screen TVs, gas grill, and dining areas. The backyard features an award-winning swimming pool, rock waterfalls, hot tub, fire pit, putting green, and lounging for the perfect photo op. This property rests in perfect proximity to luxury golf courses, shopping outlets, dining, and everything you need in Scottsdale.
See all of Casa Royale here!
2. The Magnificent
This one is truly magnificent. Standing at 7 bedrooms, 5.5 bathrooms with a guest house, The Magnificient sleeps 32 guests and is designed to be the best rental you can find in the Scottsdale area! With a prime location within 15 minutes of all things Scottsdale and Kierland, outside you get a heated pool, hot tub, poolside cabana, and sand volleyball, and inside gives you luxury interior design, secured entertainment with 10 TVs, and a full-service kitchen. Bring your group vacation to The Magnificent for what guests have rated five stars all around!
See all of The Magnificent here.
1. The Ultimate
Coming in first place is one of the finest estates available anywhere, The Ultimate. Comfortably accommodating 30 guests, this luxury villa has 8 bedrooms with a den, 6 bathrooms, and numerous amenities to make you and your party kick back in style. Grand heated pool, poolside cabana, entertainment center, outdoor gaming, billiards, massage chair, modern interior, and chef's kitchen… The Ultimate is made to impress. All bedrooms are fitted with memory foam mattresses and flat screen TVs, plus the den is also a mini arcade! Whether for a work trip, group vacation, family getaway, or just because, this luxury property is your "ultimate" Scottsdale oasis.
Check out the beauty of The Ultimate for yourself here.
The best part about all of these luxury Airbnbs? They're all from Scottsdale Stays, the premier luxury rental owner in Scottsdale! Booking direct with us means saving 15% on travel site fees and getting more out of your Arizona vacation.
Coming soon to Scottsdale Stays…
Paradise Park
Paradise Park is the golf lover's getaway. Designed specifically for large groups of golfers who want their own individual bed to sleep in, this 6 bedroom, 4 bathroom with 16 beds is perfect if you're on a budget!
Stay in the loop with Scottsdale Stays and our resort-style vacation rentals so you never miss the best booking deals!
Categorised in: Blog, Uncategorized
This post was written by admin