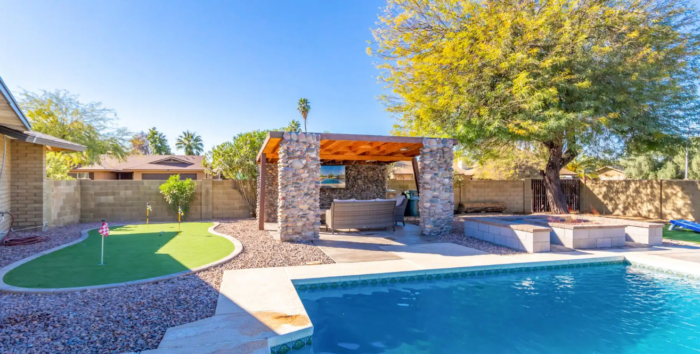 August 18, 2022 7:12 pm
If your group is trying to sneak in a last-minute trip to Scottsdale before the whirlwind of fall and the holidays, we're here for it… and you! All of our vacation villas are designed to be the best you'll find in Scottsdale and Phoenix, equipped with resort-level amenities and the essence of living like a local. Check out a handful of our favorite Scottsdale Stays listings that you should book for your next weekend getaway to Scottsdale!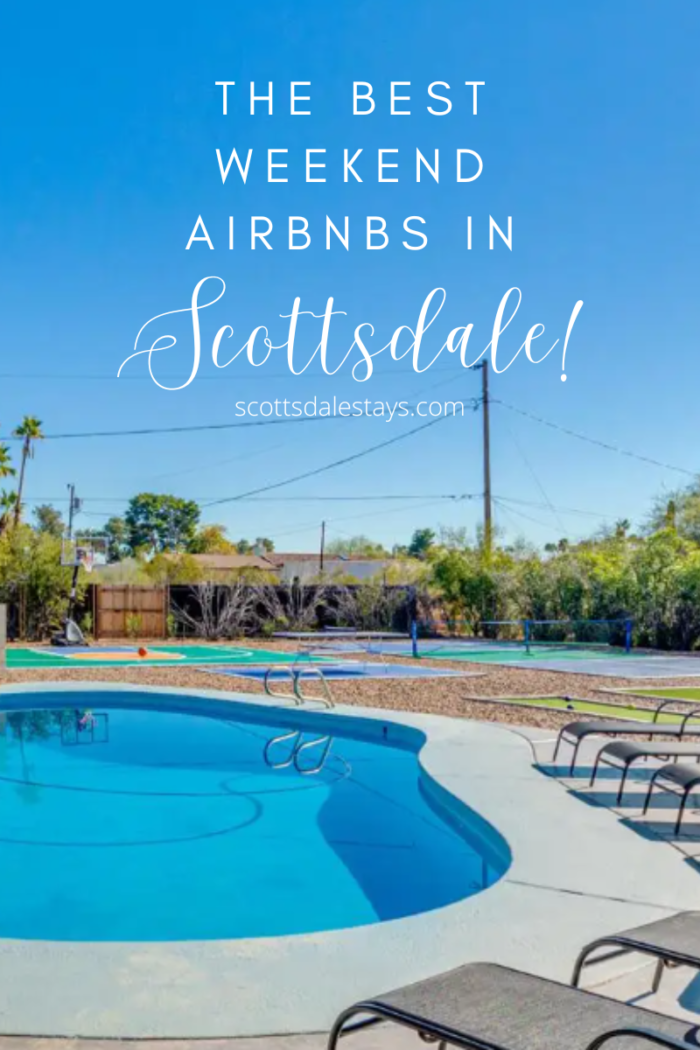 The Shangri La Estate
7 bedrooms, 4 bathrooms, and a whole lot of luxury await you at the Shangri La Estate! Sleeping 26 guests, this stay comes with a full kitchen, TVs throughout the home, and one of the best backyards you'll find from a vacation rental.
Book your stay at The Shangri La Estate here!
The Ultimate
This stay is one of our finest, and truly the ultimate! With 9 bedrooms, 6 bathrooms, and room for up to 30 guests, this luxury villa will have you vacationing in style. All bedrooms come with flat-screen TVs and memory-foam mattresses for your comfort. Enjoy billiards inside out of the heat, or take a dive into the large pool and dry off in the poolside cabana… there are endless options here at The Ultimate!
Book your one-of-a-kind stay at The Ultimate here!
Paradise Park
Paradise Park is the perfect stay to take a load off for the weekend! Known as our fun house, you'll have your choice of pool time, ping pong, bocce ball, billiards, or simply relaxing out in the sun. Coming with 6 spacious bedrooms and 4 bathrooms, all equipped with memory-foam mattresses and flat-screen TVs, let this stay take you to paradise this season!
Book your stay at Paradise Park here!
The Magnificent
Last, but most definitely not least, is the Magnificent… and this luxury estate needs no explanation as to why we named it that! 8 bedrooms, 6 bathrooms, and a large amenity-filled backyard come with this stay, giving you the freedom to spend your weekend getaway exactly how you want. Sleeping 32 guests and equipped with a guest house, you and your group will have maximum comfort and space for the duration of your stay. Don't forget all the standard, high-quality offerings that come with all of our luxury villas!

Book your stay at The Magnificent here!

Stay in the loop with Scottsdale Stays and our resort-style vacation rentals so you never miss the best booking deals for your desert getaway!

Tags: arizona, scottsdale, vacation, villa


Categorised in: Blog

This post was written by admin