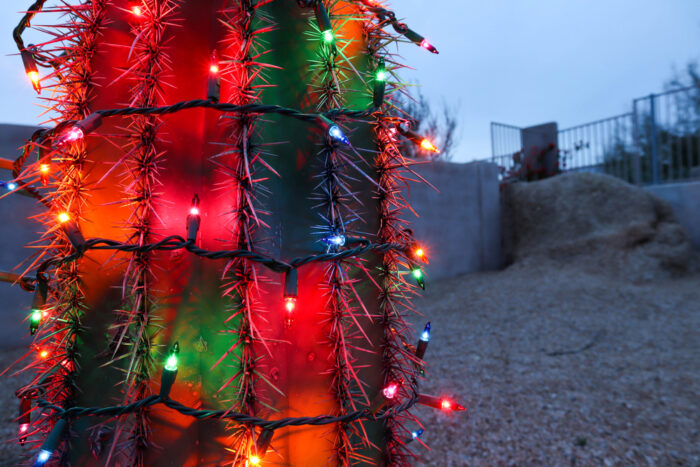 December 16, 2021 11:17 pm
The holiday season makes Scottsdale come to life with lights, events, and the all-around enthusiasm that enters with the season. Not only do we have the perfect weather for a winter desert vacation, but the attractions and stay options make for a worthwhile trip to the Sonoran to ring in the New Year! Read on for what awaits you here in Scottsdale during the holidays.
Lights… Camera… Scottsdale!
Scottsdale is lush with holiday events for you and your loved ones to enjoy, with all the variety you can imagine! If you want some festive fresh air, take a Christmas Lights Segway Tour through downtown, light up your evenings at Zoolights at the Phoenix Zoo, or walk the trails of the Desert Botanical Garden for Las Noches De Las Luminarias!
Scottsdazzle is a month-long holiday event series that brings Scottsdale's community and businesses together with music, vendor shopping, beverage tastings, and more! Make sure to view the Holiday Lights at McCormick Stillman Railroad Park and browse the Old Town Scottsdale Farmers Market in classic Scottsdale holiday tradition!
In the new year, be on the lookout for Scottsdale's annual events that bring people from across the country to our region, such as the Barrett-Jackson Collector Car Auction, the Phoenix Open, and the Scottsdale Arabian Horse Show!
For more information on current holiday events in the Scottsdale/Phoenix region, visit Experience Scottsdale's Holiday Events, and visit our blog for the rundown of everything Scottsdale in the winter!
The Perfect Weather
Winter in Scottsdale is not too hot and not too cold, averaging in the mid-70s, creating the perfect climate to come and visit the Sonoran before its scorching summers return. Sunshine is still around, urging locals and visitors to spend their days playing golf, dining outdoors, and exploring the surrounding terrain. Naturally, Scottsdale's holiday season calls for you to bring your family, bachelorette, golf group, or just because getaway our way!
Resort-Style Living
We know Scottsdale is one of the ultimate vacation destinations in the country, and what better way to experience the city than by staying in a luxury villa? Scottsdale Stays offers a wide variety of rental properties that cater to all your getaway needs and provide you and your fellow guests with resort-style living 24/7.
Here are a few of our fan favorites that will serve your holiday vacation well:
The Magnificent – The Best Vacation Rental in Scottsdale/Phoenix
Stay at our most requested location, The Magnificent, where 32 guests sleep comfortably indoors and have endless amenities outdoors, such as a poolside cabana, conversation fire pit, entertainment centers, diving pool, volleyball, and more!
See more of The Magnificent here.
Casa Royale – Award-Winning Landscaping & Living
With a grand, sleek floor plan for seamless indoor and backyard living, Casa Royale keeps the feeling of luxury at the forefront of your stay. Sleeping 24 guests with plenty of space across 3,400 square feet of property, you won't regret booking Casa Royale for the holidays!
Paradise Park – Our Newest Listing!
Stay in comfort and see the luxurious quality of life in Scottsdale at Paradise Park, our newest listing perfect for large groups who want all the fun for their vacation! Paradise Park has 6 bedrooms and 4 bathrooms, a spacious floorplan, and a tropical backyard ideal for the entertainer!
See more of Paradise Park here.
This is your sign to plan for a holiday getaway to Scottsdale! Whether you stay for a weekend or longer, rest assured your itinerary will be full and your choice of stay will be nothing short of impressive. Visit Scottsdale this winter, and choose Scottsdale Stays for the luxury-style accommodation you deserve!
Stay in the loop with Scottsdale Stays and our resort-style vacation rentals so you never miss the best booking deals!
Categorised in: Blog
This post was written by admin