August 11, 2022 7:28 pm
Not only are resort rates at their lowest this season, but Scottsdale is at its brightest… literally! With tons of sunshine to tan under and the spoils of the Sonoran lifestyle to enjoy, your summer trip to Scottsdale is bound to be one to remember! There is still plenty of time to book your stay before rates rise back up, and we're here to walk you through the basics for a good time in Scottsdale and at one of our many vacation rentals. Keep reading for the inside scoop from Scottsdale Stays!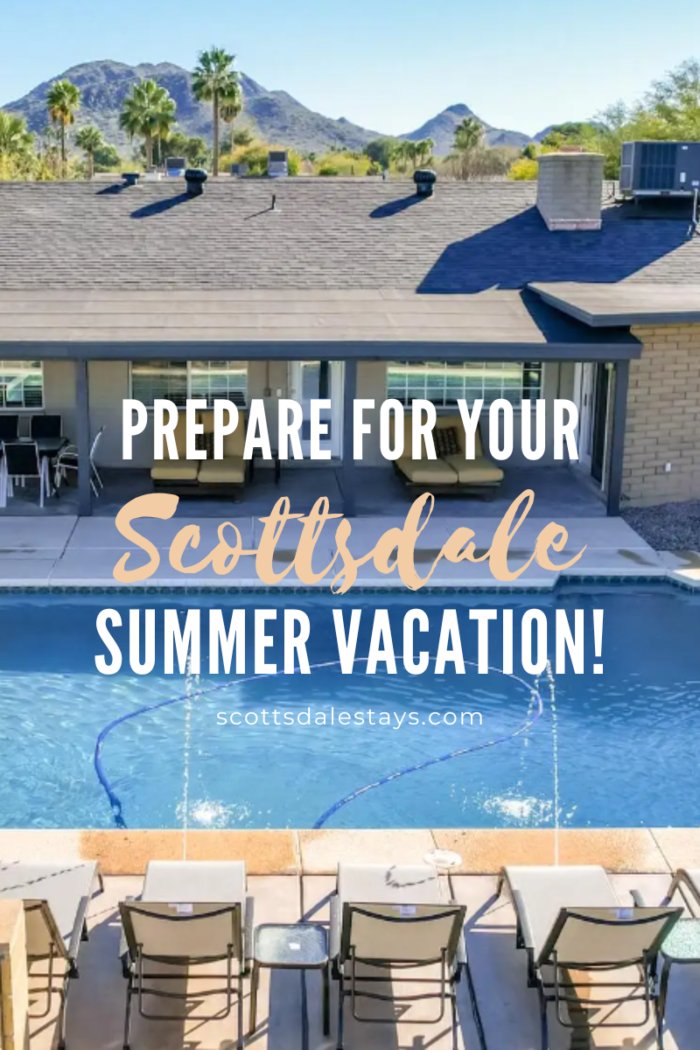 Pool Time = A Requirement!
While you're here in Scottsdale, it's a given that you will be spending lots of time at the pool. That being said, be sure to pack lots of sunscreen, a few bathing suits and trunks, towels, and treats to snack on. If you're wanting that perfect picture to post on social media, don't worry – you'll have a stunning desert backdrop and resort-level amenities to show off!
Sightseeing
If you want to beat the heat road-trip style, we're conveniently placed near all the wonders Arizona has to offer! From the Grand Canyon in Northern AZ down to Flagstaff and Sedona, your sightseeing itinerary will be full. Want to stay more local to Scottsdale and Phoenix? The McDowell Nature Preserve, Camelback Mountain, and Desert Botanical Garden are right within reach and just as majestic. Pack lots of water for hydration, snacks, and curated music playlists for the desert roads!
Nightlife Adventures
The liveliness of downtown Scottsdale's nightlife is one of many things to consider when visiting during the summer, especially for how cool it gets! Be sure to bring a jacket and some dancing shoes for top-tier entertainment in Old Town Scottsdale, or comfortable shoes to bar-hop in before coming back to the hot tub. We're sure you'll want a night in at some point, so pack loungewear for evenings by the fire pit or movie nights in the poolside cabana!
The Lowest Rates of the Year!
You deserve to reward yourself with a summer vacation, and what better destination than Scottsdale to make that happen? Our vacation stays have everything you need, top to bottom, to have a comfortable, unforgettable time in our desert oasis. We make you feel like a local, even when you're simply passing through!
Check out our availability on our website to close out your summer the right way… with Scottsdale Stays!
Stay in the loop with Scottsdale Stays and our resort-style vacation rentals so you never miss the best booking deals for your desert getaway!
Categorised in: Blog
This post was written by admin