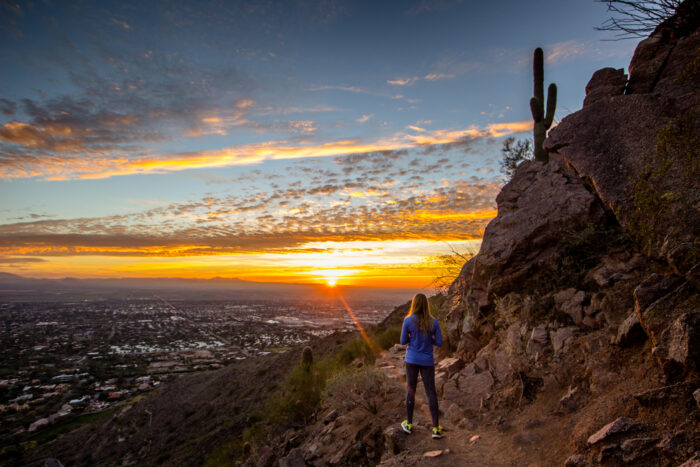 January 26, 2022 11:33 pm
This time of year in Scottsdale is known for its awesome weather in the high 60s-low 70s, urging locals and visitors alike to slow down and soak up the Sonoran sun on hiking trails, outdoor dining, and luxury spa days. The new year is obviously on the come down from the raging holiday season, yet Scottsdale knows how to keep the momentum going all year round! Here are 3 top-tier reasons for you to stay in Scottsdale this winter season!
The Events
Starting off every year strong, the Barrett-Jackson Collector Car Auction comes to Scottsdale's WestWorld for a week full of automobile fun! Enjoy performance track rides, showcases, live music, food, and of course, car auctions of the finest collectibles in the world!
Saturday, January 22nd – Sunday, January 30th, 2022
For golf enthusiasts, late winter brings the Greatest Show on Grass, the world-renowned Phoenix Open, to the Phoenix-Scottsdale region every February! One whole week of watching professional golfers from around the world compete in this tournament is one of Scottsdale's favorite events of the year, especially when free admission is involved for the first two days! Don't forget about the 4-night Coors Light Birds Nest Concert Series, where Diplo, Sam Hunt, Macklemore, and Kygo are performing for 2022!
Waste Management Phoenix Open
Monday, February 7th – Sunday, February 13th, 2022
The Scottsdale Arabian Horse Show is a treat every year, where horse competitions, arts, education, cuisine, and vendors all come together for the 10-day event! Visitors and locals alike come to Scottsdale's WestWorld for an "Upscale Wild West" experience, where of course, Arabian horses are the main attraction!
Thursday, February 17th – Sunday, February 27th, 2022
The Views
To add some truly exceptional city and Sonoran Desert views to your Scottsdale vacation, book a private tour of Scottsdale's gems with local experts at JoyRidesAZ! Wine tours, pub crawls, and eateries galore… what better way to see the city up close?
Want to go big before you go home? Experience a helicopter sightseeing tour where you can see the Sonoran from a bird's eye point of view and add an extra dose of wonder to your vacation! This is an ideal treat for visitors who may not get to visit every corner of Scottsdale and Phoenix, but still want a magnificent, tasteful touch of adventure to their stay.
On a budget and still want to explore the best of Arizona's outdoors? Venture to iconic Camelback Mountain or the McDowell Sonoran Preserve to take advantage of the lovely weather and amazing horizon views!
The Stays
Vacations feel worthwhile when you get luxury and affordability all in one stay, and lucky for you, Scottsdale Stays is the leader in vacation home stays in the Scottsdale region. All of our stays are in close proximity to the hot spots, eateries, and entertainment the city has to offer!
When you book direct with us, you save the 15% guest service fee charged by the travel websites. Some guests save thousands with us during peak season!
Here are a few of our favorite stays that we host at Scottsdale Stays:
Paradise Park, The Golf Group's Getaway!
A 6-bedroom, 4-bathroom oasis only ten minutes to WestWorld and the Phoenix Open, with a tropical backyard, entertainment systems, games, fire pit, hot tub, and much more to make your vacation one to remember!
See more of Paradise Park here.
Cholla Estate, Newly Renovated & Ready for Reservations!
Sleeping 18 guests in total, this upgraded 6-bedroom, 3-bathroom vacation home comes with the largest estate yard of any of Scottsdale Stays' estates! Equipped with a private 36,000 square foot yard perfect for your next family event, girls' trip, or bachelorette celebrations – Heated pool with lounging, basketball court, large putting green, sand volleyball court, soccer field… the outdoor amenities here are endless, and the inside is just as luxurious!
See all of Cholla Estate here.
When it comes to winter in Scottsdale, it doesn't take a whole lot of convincing to book a vacation here! Take advantage of our cooler weather and epic beauty for a trip you won't soon forget!
Stay in the loop with Scottsdale Stays and our resort-style vacation rentals so you never miss the best booking deals!
Categorised in: Blog
This post was written by admin